Frontier Justice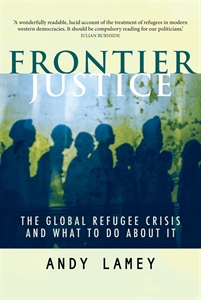 is a gripping, eye-opening exploration of the world-wide refugee crisis. Combining reporting, history and political philosophy, Andy Lamey sets out to explain the story behind the radical increase in the global number of asylum-seekers, and the effects of North America and Europe's increasing unwillingness to admit them.
He follows the extraordinary efforts of a set of Yale law students who sued the U.S. government on behalf of a group of refugees imprisoned at Guantánamo Bay; he recounts one refugee family's harrowing journey from Saddam Hussein's Iraq to contemporary Australia via the world's most dangerous ocean crossing; and he explores the fascinating case of Ahmed Ressam, the so-called Millennium bomber who filed a refugee claim in Canada before attempting to blow up the Los Angeles airport. Lamey casts new light on a host of broader subjects, from the reasons why terrorists who pose as refugees have an overwhelming failure rate to the hidden benefits of multiculturalism.
Throughout Lamey's account, he focuses on the rights of people in search of asylum, and how those rights are routinely violated. But Frontier Justice does not merely point out problems. This book offers a bold case for an original solution to the international asylum crisis, one which draws upon Canada's unique approach to asylum-seekers. At the centre of the book is a new blueprint for how the rights of refugees might be enforced, and a vision of human rights that is ultimately optimistic and deeply affirmative.
In exploring one of the most pressing questions of our age, Lamey provides an absorbing and unsettling look at a world in which, as he notes, there are many rights for citizens, few for human beings.
Reviews of Frontier Justice
"Lamey has produced a superb and immensely readable work."
July 10, 2011
"Andy Lamey tackles this timely and critical debate with an intellect and a passion that are formidable. Frontier Justice could, quite possibly, have a lasting effect on policy in Canada and elsewhere."
Apr 23, 2011
The Hill Times (Ottawa) names Frontier Justice one of the best books of 2011.
Feb 8, 2012
The Weekend Australian: "From the perspective of the Australian debate, Andy Lamey's Frontier Justice provides a welcome corrective . . . thoughtful and rewarding."
Feb 4, 2012
Embassy magazine (Ottawa) declares Frontier Justice one of the Top 20 Foreign Policy Books of 2011.
Oct 16, 2011
Voice of reason on refugees
The Chronicle Herald (Halifax): "A book that pulses with intellectual curiosity and energy . . . a calm, lucid voice in a debate often sidetracked by terrorist panic and hypocrisy about human rights."
May 3, 2011
Powerful and Dramatic
The Age (Melbourne): "Rivalling the film Casablanca for drama and romance is the refugee story of philosopher Hannah Arendt's escape from Germany in 1933 and her reunion with her second husband after the invasion of France. Without passport or visa, Arendt managed to cross the border through a house that had its front door in Germany and back door in Czechoslovakia. Later, while in Paris, she met another German refugee and married him. They were separated after being interned but met again in the south of France. Lamey tells this story as a way of exploring the plight of the modern refugee and Arendt's own position on the 'impossibility of human rights' for refugees, inspired by what she experienced and witnessed during the war. It's a powerful introduction to a discussion of the contemporary refugee crisis."
Nov 11, 2011
Inside Edition (Melbourne): "Frontier Justice would make useful reading for the prime minister's expert panel on asylum seekers."
WorldCat
Copies of Frontier Justice available for loan in your area may be found at WorldCat.